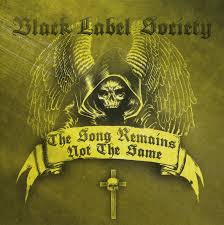 Release Information:
Released:
May 10, 2011
Length:
41:12
Label:
E One
Producer:
John DeServio, Zakk Wylde
Track listing:
1. "Overlord" 5:06
2. "Parade of the Dead" 3:55
3. "Riders of the Damned" 3:46
4. "Darkest Days" 4:05
5. "Junior's Eyes" (Black Sabbath cover) 5:26
6. "Helpless" (Crosby, Stills, Nash & Young cover) Neil Young 4:36
7. "Bridge Over Troubled Water" (Simon & Garfunkel cover) Paul Simon 3:42
8. "Can't Find My Way Home" (Blind Faith cover) Steve Winwood 3:38
9. "Darkest Days" (John Rich album version) 4:04
10. "The First Noel" 2:54
The Song Remains Not the Same is the tenth studio album by Black Label Society, released May 10, 2011. It features new cover songs, acoustic versions of songs originally released on Order of the Black, and compiles bonus tracks from various releases of that album. The Song Remains Not the Same reached No. 41 on the Billboard 200 albums chart. Some also consider the album as a compilation album rather than a studio one mainly because most of its songs are rearranged songs from the Order of the Black album.
Personnel:
Zakk Wylde
vocals, guitars, piano
John DeServio
bass, backing vocals
Will Hunt
drums
John Rich
guest vocals on track 9
Production:
Produced by:
Zakk Wylde
Associate producer:
John DeServio
Engineered by:
Adam Klumpp
Mixed by:
Zakk Wylde, John DeServio, Adam Klumpp
Mastered by:
George Marino
Publicity:
Carise Yatter (Hired Gun Media), Darren Edwards
Artwork, layout, and design
John Irwin (John Irwin Design), Zakk Wylde